Vibrational and Muscular Therapy for People and Horses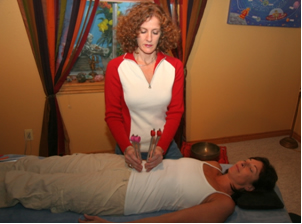 Woven into a therapeutic massage is a very effective sound based therapy, Acutonics®, which is rooted in Chinese medicine. You experience the deep resonance of rich vibrant tones, which are strategically placed on trigger points directly on your body. They encourage relaxation, quiet your mind, and connect you with a sense of self.
---
You leave the session extremely relaxed.
---
Blended or performed individually, vibrational medicine has been very effective addressing a wide variety of conditions including:
emotional stress
back, neck and general musculoskeletal pain
migraine/tension headaches
TMJ related pain
sleep disturbances
gastrointestinal issues
peri/post menopausal  symptoms